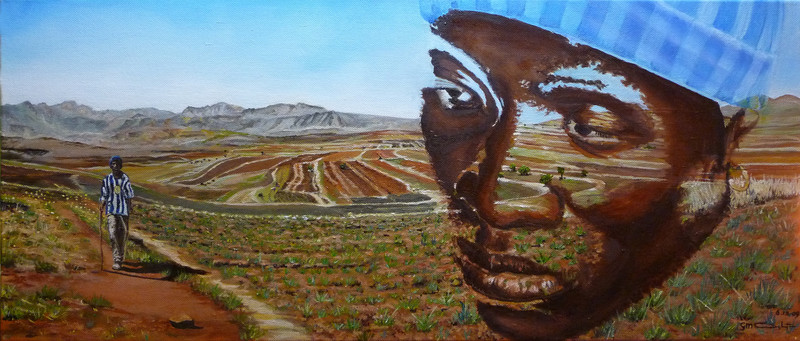 30 x 70 cm, © 2009, sold
Two-dimensional | Painting | Oils | on canvas
On display at Uit de kunst in Biltoven
Lesotho, A land so dry and hot. The inhabitants live a life of interdependence of nature with man. I spoke with this man, he sang a song in their own language, which he translated for me in English. I have requested the text from the people of Malealea lodge. SONG!!SONG??SONG!!!
It's important to be a Mosotho Man
Living in the country of Lesotho
Where I've been taught about peace and culture.
Look at myself that I'm living in Love
I'm living in the beautiful and loved country
I have seen with eyes, I have seen.

It's important to be a Mosotho Man
The people of my country may grow up
Look at a beautiful and loved country
More peace, *Moshoeshoe's children
I'm proud about my people and the Hand of the Father
I have understood with my ears, I understand.

*Moshoeshoe: A King with tremendous effect created the Basotho Nation.
Other work inspiered by Lesotho is "Lesotho woman "